Optimized Alarm Point Setting and Temperature
Compensation for Detection of A2L Refrigerant R-32
The FCM2630 gas sensor module is individually factory pre-calibrated to the optimal alarm set point to ensure conformity to relevant technical standards of HVACR equipment using R-32. The standard FCM2630 is pre-calibrated to R-32. Customized FCM2630 sensor modules calibrated for the detection of A2L or A3 refrigerants other than R-32 are also available upon request.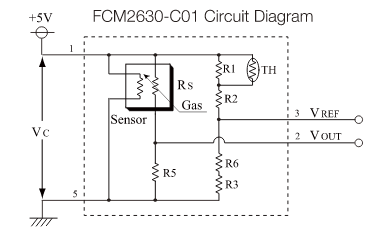 Semiconductor gas sensors in general may show influence from ambient temperature fluctuations to a certain extent depending on the concentration of target gas. A built-in temperature compensation circuit using a temperature sensor in the FCM2630 reduces influence from ambient temperature changes on its alarm point.
HVACR equipment manufacturers can easily add a safety function to detect A2L refrigerant leak by simply incorporating the FCM2630 sensor module into their HVACR systems without extra work for designing a temperature compensation circuit. Likewise, manufacturers do not need to adjust the alarm set point of individual gas sensors using refrigerant calibration gas.
Two Models of Gas Sensor Modules to Choose From
FCM2630 is an embedded type gas sensor module for the detection of A2L refrigerants with two variants to choose from.
FCM2630-C01 is a simple and cost-effective model with analog outputs that are to be connected to an external voltage comparator for generating alarm output.
FCM2630-E00 is an advanced functionality model with monitor signal, and malfunction signal in digital output format in addition to alarm signal output.
FCM2630 is designed to meet performance requirements for its incorporation into A2L gas detection systems that conform to the relevant standards of IEC (International Electrotechnical Commission) and the JRA (Japan Refrigeration and Air Conditioning Industry Association) when used under the conditions as shown in its specifications.